We revisited our relationship on our eighteenth anniversary. ;) And now, not only are we Multnomah-County-of-Oregon-Marriage-Rescinded and Recognized-by-the-State-of-California-Domestic-Partners, but as of Thursday, October, 20, 2011, we are Legally-Married-in-New-York. In attendance were Kathy Vance and John Bianchi, the couple who introduced us, and Don's sister, Sally and her husband Tom Gundling.
When it gets recognized by the Feds, we can all have a big celebration. So help us, please, by doing everything you can to MAKE us LEGAL from the Atlantic to the Pacific, from the Gulf of Mexico to the North Pole. Write, call, talk to your cousin in Utah.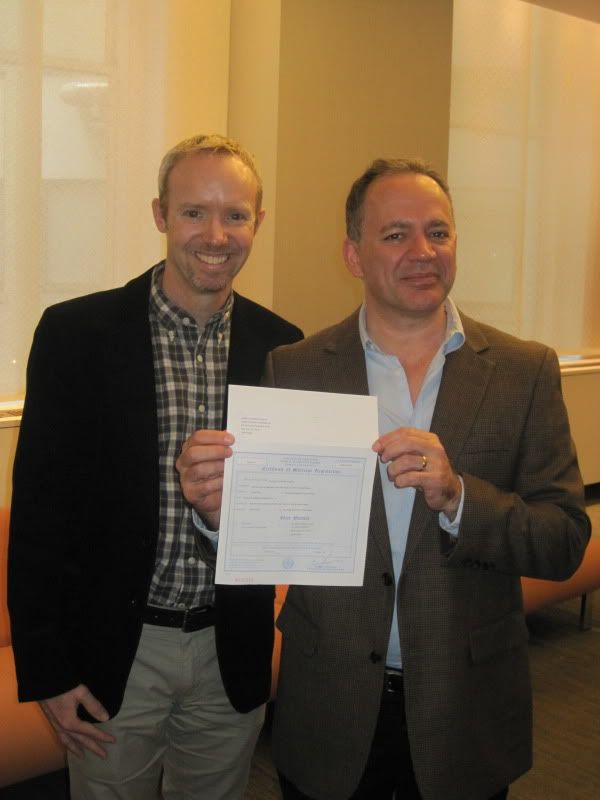 We rescued a pooch. We went to Connecticut by commuter train to meet the Adopt-a-lab truck. They are rescuing small dogs now, too. She comes from Missouri originally, rescued to Indiana. She made the road trip to just within a few feet of the Darien train stop.
She's great…if you like really cute little pooches that are riddled with separation anxiety. We're working on it. She is very affectionate. We are all figuring each other out. Buy stock in paper towels!
Her name is Connie.